Toilets
Introducing a new way to find clean, safe, accessible toilets in Saddleworth; the Community Toilet Scheme.
Through an innovative scheme developed by Saddleworth Parish Council, with support from Oldham Council, businesses in various Saddleworth villages will allow residents and visitors use of their toilet facilities free of charge, with no obligation to make a purchase.
Businesses taking part in the Community toilet scheme will display the community toilet badge, which also shows the facilities available. Wherever you see the community toilet badge, you can be assured of clean, safe and accessible facilities.
Businesses participating in the scheme include: Saddleworth Craft Co-operative in Delph, The Rams Head Inn in Denshaw, The Diggle Hotel in Diggle, The Royal George pub in Greenfield, The Three Crowns at Scouthead, The Granby and The Little Shop in Uppermill.
Look out for the badge during your next visit to Saddleworth.
Oldham Famous Faces

Find out about Sir Winston Churchill here.

Find out about Eric Sykes here.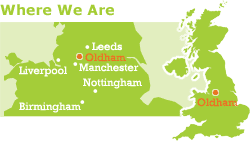 Event Highlights