Peak Park
Oldham's best kept secret is its glorious countryside.
Over a quarter of Oldham lies within the Peak District National Park, (external link) with picturesque villages, woods, reservoirs, moors and meadows all offering a chance to get away from it all.
Beat the crowds and head to this 'hidden corner' of the Peak District which offers a spectacular variety of scenery and nature from rare birds and mountain hares on the dramatic high Saddleworth moorlands to the tranquil beauty of woodlands and water at Dove Stone Reservoir and Chew Vale.
You'll find guided walks, bike rides, countryside centres, sailing, fascinating historical heritage and most importantly, a warm welcome wherever you go.
The annual walking festival through the peak District offers guided walks with local experts on themes such as food and drink ghost, heritage and geology.
Cycling is a fun and healthy way to explore and see the stunning countryside of the peak district. Trails are available for families, while remote moorland bridleways provide a challenge for experience mountain bikers.
Oldham Famous Faces

Find out about Karen Elson here.
Find out about Christopher Biggins here.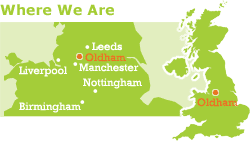 Event Highlights