Countryside
Breathe in the fresh air and experience Oldham's great outdoors.Lying within the Peak District National Park and South Pennines, picturesque villages, woods, reservoirs, moors and meadows offer a chance to get away from it all.
The dramatic moorland landscape of the South Pennines provides the perfect backdrop for Saddleworth's picturesque villages and Huddersfield Narrow Canal below.
Almost 25% of the borough lies within the Peak District National Park, so walkers, cyclists and horse riders have lots to enjoy, The Pennine Way and Pennine Bridleway just two of the amazing routes through this diverse and beautiful landscape.
Wonderful woodlands, waterways and wildflower meadows can be found at our three countryside centres at Brownhill, Daisy Nook and Tandle Hill.
A great place for outdoor activities, there's sailing at Dove Stone, rock climbing at Crompton Moor. canoeing at Castleshaw and much more.
Recreation and relaxation is also on offer in Oldham's many parks. Judged to be amongst the best in the country with seven green flag awards, there's always something to see and do. A busy events programme running throughout the year, including fetes, fairs, open air concerts and much more.
Oldham's got lots of wildlife on offer too. Find mining bees and fossilised mussels at Glodwick Lows Local Nature Reserve (external site) and ponds full of frogs and visiting herons at Leesbrook Nature Park (external site). Or keep your eyes peeled at Moston Brook (external site) for song thrush, house sparrows and even the odd bat!
Take the time to explore Uppermill's site of biological importance at Moorgate Quarry Walking Trails (pdf leaflet). A number of habitats can be found in the quarry, including ponds, acid grasslands, and woodlands, which are all supported by a diverse range of wildlife.
Oldham Famous Faces

Find out about Eric Sykes here.
Find out about Carl Cox here.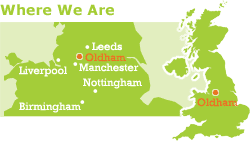 Event Highlights