Shopping
Oldham is the perfect destination for a day's shopping, with something to keep the whole family entertained.
The Spindles Town Square Shopping Centre is located right in the heart of Oldham Town Centre and is easily accessible via all forms of transport.
Oldham Independent Quarter already home to a number of strong independent and family-run businesses, the area with the greatest potential to start to reinvigorate the town, to make it look, feel and work better.
Why not visit one of our traditional markets, award winning Tommyfield Market is a bustling haven for bargain hunters, combining both traditional and modern facilities and you'll find more traditional markets in Royton and Shaw.
Oldham Street Market is held on Curzon Street and Albion Street every Friday and Saturday. You will find fashion, Yum Yums Caribbean food, fresh meats and lots more.
When you need to refuel and reflect on your buys, you'll find plenty of places to stop for a coffee or bite to eat too.
Take a look at the wide range of ceramics, jewellery and children's books that are for sale linked to 3 current exhibitions at Gallery Oldham. You'll also find Christmas Cards, children's toys, stocking fillers plus bags, jewellery and accessories by local artists and craftspeople..
Oldham Famous Faces

Find out about Karen Elson here.

Find out about Sir Winston Churchill here.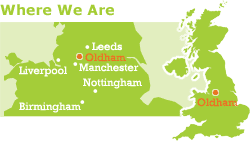 Event Highlights