Accommodation
Visitors to Oldham will be spoilt for choice by our range of hotels, B&B's and self catering establishments. Whether you're looking for a tranquil rural retreat or a more central location in Oldham itself, a warm welcome awaits you.
Oldham Famous Faces

Find out about Eric Sykes here.

Find out about Helen Bradley MBE here.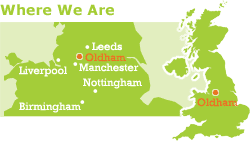 Event Highlights