Attractions
Whether it's art, culture, history or nature, Oldham's attractions offer something for all ages and interests.
Visit the award winning Gallery Oldham for a peek into the borough's history and heritage. The unique gallery houses a collection of artworks and objects dating back to 1883 and there's always something different to see with our busy events programme to suit all ages. Saddleworth Museum provides a fascinating insight into the lives of its people, from the farmers who scraped a living weaving cloth to the soldiers who shivered at Castleshaw Roman Fort.
The Oldham Coliseum Theatre offers an electic mix of drama, comedy, musicals and traditional pantomime. A great way to spend the evening in Oldham.
Oldham's Town Centre is a shoppers' haven with an array of shops, a shopping mall and a traditional market.
Oldham's green spaces are some of the best in the country. From historic public parks to wooded river valleys and Pennine Moorland, there's something for the whole family.
Stonerig Raceway is a new and exciting way of bringing family and friends together by sharing in a fun filled ultimate Scalextric experience, go along and test your skills on one of the 7 different tracks.
Use our Attractions search to find attractions in and around Oldham.
Oldham Famous Faces
Find out about Annie Kenney here.

Find out about Karen Elson here.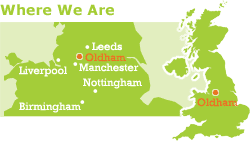 Event Highlights