Huddersfield Narrow Canal
A wealth of natural beauty and architectural heritage, not to mention colourful narrow boats navigating the water, mean there's plenty to see and do on your visit to the Huddersfield Narrow Canal.
Re-opened in May 2001 following a £30 million restoration project funded mainly by the Millennium Commission and English Partnerships. More than 50 years after the waterway was last open to through navigation.
Passing through scenic Saddleworth villages of Greenfield, Uppermill and Diggle, the waterway runs for 20 miles between Ashton-under-Lyne and Huddersfield. Crossing the Pennines through the Standedge Tunnel - the longest, highest and deepest canal tunnel in the country.
Playing an important part in the area's development during the Industrial Revolution, the canal is now major attraction for visitors, providing leisure opportunities for towpath walks, Sculpture Trails and canal boat rides aboard the Pennine Moonraker through breathtaking countryside.
Visitors can explore the canal on foot, with a new Towpath Guide, published in 2008 by the Huddersfield Narrow Canal Society, or by boat, with passenger boat trips along the canal towards Standedge Tunnel in the Pennine Moonraker. Operating from Uppermill with a schedule of public trips, the boat is also available for hire for private group bookings for both day and evening events.
Fully restored in 1996, the Diggle Flight is the most impressive group of locks on the Canal, climbing to the summit of the Canal at the Diggle Portal- the entrance to Standedge Tunnel. The modern Portal gates depict `leggers` propelling a narrowboat through the Tunnel and were installed in 2006.
Housed in an old mill building on the Canal edge in Uppermill is Saddleworth Museum. Here several exhibitions can be found on Saddleworth's heritage as well as a working woollen mill. Admission is free of charge.
There is an abundance of walks, rides and trails along, or near to the Canal. Details of these can be found on this Oldham Cycle Network Map (pdf) and on the Manchester's Countryside website.
For a list of activities, attractions and places to eat along the Canal please click here.
Oldham Famous Faces

Find out about Helen Bradley MBE here.

Find out about Eric Sykes here.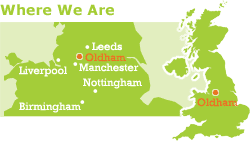 Event Highlights