George Street Chapel
George Street Chapel
George Street Chapel is a Grade II listed former independent Methodist Chapel has been sympathetically and tastefully renovated
Frequently holding Heritage Tours and Themed events, where you will be transported back in time in the blink of an eye. Join the story tellers as they take you through the history of the chapel.
George Street Chapel rich in history also regularly holds School Education Visits, an interactive and exciting look into Oldham's History.
For more information please visit George Street Chapel Website www.georgestreetchapel.com
Oldham Famous Faces
Find out about Carl Cox here.
Find out about Phillip Schofield here.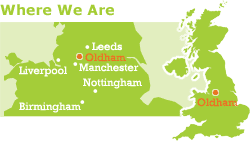 Event Highlights