Heritage
Oldham's Heritage Open Days
Properties all over the country are throwing open their doors as part of this national event organised by English Heritage. Whether you are interested in architecture or heritage or just curious about the buildings in the borough this is your chance to step through the door and find out more.
Learn more about your local history and architecture, including visiting many of the famous Parks, Churches and places Oldham has to explore.
For a full list of Oldham Heritage Open Days usually run thoughout September. Keep a look out on our "whats on" pages for a full ist of events.
Oldham Famous Faces
Find out about Carl Cox here.
Find out about Christopher Biggins here.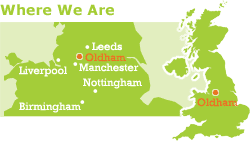 Event Highlights