Roman Fort
The Roman Fort at Castleshaw can be found just a few minutes from the Castleshaw Activity Centre on the eastern side of Castleshaw Valley.
The fort was once an important stronghold for Romans travelling through the Pennines between Manchester, York and Glossop. Castleshaw Fort is now protected as a Scheduled Ancient Monument with national recognition as a site of architectural importance.
Oldham Famous Faces
Find out about Phillip Schofield here.
Find out about Annie Kenney here.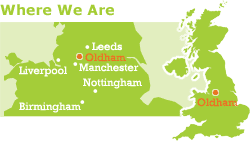 Event Highlights