Stars of Stage and Screen
Morning: Explore the busy Town Centre with its bustling market and Shopping Centre. Yorkshire Street and Union Street are regularly used as filming locations for the ITV series Scott and Bailey. Why not take a drive through the pretty Saddleworth Villages seen in films such as Brassed off and Yanks.
Afternoon: Daisy Nook Garden Centre, just 10 minutes' drive from the Town Centre, and as well as offering shopping for gifts, Regatta clothing and gardening products and a riverside cafe - home to a Coronation Street exhibition. Visitors may also be interested in the history garden which tells he tale of how a Victorian novel gave the area its name and why artist LS Lowry was a frequent visitor.
Evening: You may want to catch a show at the Town Centre Coliseum Theatre where many of our most recognisable soap starts began their careers - and where Stan Laurel and Charlie Chaplin both appeared in its early days.
Oldham Famous Faces

Find out about Eric Sykes here.
Find out about Phillip Schofield here.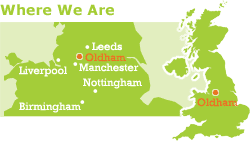 Event Highlights