Parks and Gardens
Morning: Enjoy a leisurely walk around the Green Flag award and Grade II* listing by English Heritage Alexandra Park (external link), Oldham. A stunning Victorian park boasting 75 acres of green space and fascinating historic buildings. Discover the Lions Den and Japanese Pagoda, and take a guided tour of the stunning glass conservatory. Relax and unwind with beautiful floral displays, fountains and sculptures, or join in the fun in the play area and paddling pool.
Afternoon: After a 20 minute drive to Dobcross, indulge in a spot of lunch and shopping at Newbank Garden Centre. You'll find the great plants, lifestyle goods, garden furniture and barbecues and prices to leave you inspired to dash home and design your own garden!
After shopping visit Brownhill Countryside Centre just a 5 minutes walk down the road, meet one of our countryside rangers and talk about local plant and animal life. Browse the art displays, explore the award winning accessible nature garden, and pick up a gift from the shop on your way home.
Evening: After a packed day of walking and shopping, unwind with dinner at one of Saddleworth's lovely restaurants or pubs, or an evening canal boat cruise along the Huddersfield Narrow Canal.
Oldham Famous Faces
Find out about Carl Cox here.
Find out about Christopher Biggins here.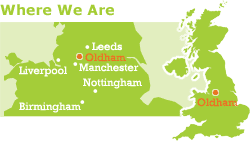 Event Highlights