Beer Mats
Visit Oldham landmarks
Oldham is full of fantastic places and fascinating facts. We've brought these together in our first series of promotional beer mats, celebrating some of Oldham's Landmarks.
A number of local pubs and venues will be using the beer mats in their bars and restaurants to help us reach as many people as possible, both tourists and local visitors (including residents).
Collect the full set of six. To find out more about each destination click on the images below.

Oldham Famous Faces
Find out about Phillip Schofield here.
Find out about Christopher Biggins here.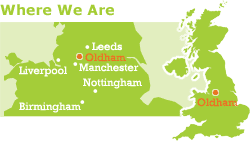 Event Highlights