Dove Stone Reservoir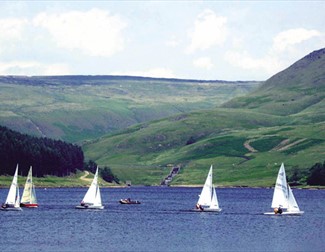 Contact Information
Greenfield
Saddleworth
Oldham
Greater Manchester
OL3 7NE
Description
Situated on the edge of Oldham and the Peak District National Park, Dove Stone Reservoir is a spectacular area popular with visitors and for family days out.

A picturesque spot, the main reservoir has its own sailing club, a permanent orienteering course, an extensive network of footpaths and good links to areas of open access moorland.

An easy access path makes it simple for the whole family (wheelchair and pushchair accessible see below for details) to take a stroll round the reservoir, stopping on the way at Chew Brook to explore the rocks and paddle in the stream. For the adventurous the site includes two more reservoirs to walk round, Greenfield and Yeoman Hey, from which you can explore Saddleworth moor and the crags above

Pause for a picnic at Ashway Gap and admire the peregrine falcons, where the RSPB Date with Nature team are on hand (Thursday – Sunday) with telescopes to help you get a closer look, plus quizzes and badge making activities on sunny weekends and bank holidays.

Watch out for wildlife of other kinds from mountain hares to mallards, before enjoying an ice cream and the stunning views across the reservoir to the South Pennine hills.

For those of you who enjoy horse riding, Dove Stone Reservoir is a staging post on the Pennine Bridleway, with a Horse Corral and toilets. Why not stop off for a picnic or to enjoy the views?

Here in the Chew Valley, there is a large concentration of Crags making it an ideal place to rock climb. Dovestones Edge, Quarries, the Ravenstones and the weirdly-sculpted Wimberry Rocks have over 500 recognised climbs, all waiting to be explored!

Dove Stone is open all year round, with the public toilets open dawn till dusk. Situated on the A635 leading out of Greenfield towards Holmfirth, the site is managed by the Royal Society for the Protection of Birds (RSPB) in partnership with Oldham Council, United Utilities and the Peak District National Park (who have a ranger station on site).

Accessible by foot, bus, train and car. There are also two public car parks (pay and display).
For Wheelchair access you will need a 'radar key' a normal looking key with a large square head which unlocks the gate to the right of the vehicle access gate by the Boat Yard at Dove Stone and it also unlocks the kissing gate which is about half way round the main trail after the path between Dove Stone reservoir and Yeoman Hey. This allows the gate to opened out fully for a wheelchair to get through.

If you need a radar key it's best to contact Disability Rights UK who sell the keys for £4 including postage & packaging. Their number is 0207 2503222 or you can visit their website www.disabilityrightsuk.org and choose the 'shop' option to purchase online

These keys are universal and will open any radar locks including the accessible toilet at Dove Stone main car park.
Facilities
Accessibility
All Areas Accessible to Disabled Visitors - You will need a 'radar key' a normal looking key with a large square head which unlocks the gate to the right of the vehicle access gate by the Boat Yard at Dove Stone and it also unlocks the kissing gate which is about half way round the main trail after the path between Dove Stone reservoir and Yeoman Hey. This allows the gate to opened out fully for a wheelchair to get through. If you need a radar key it's best to contact Disability Rights UK who sell the keys for £4 including postage & packaging. Their number is 0207 2503222 or you can visit their website www.disabilityrightsuk.org and choose the 'shop' option to purchase online These keys are universal and will open any radar locks including the accessible toilet at Dove Stone main car park.
Facility for service dogs
Guide Dogs Permitted
Parking Areas for Disabled Visitors
Ramp / Level Access
Attraction Facilities
Catering
Parking & Transport
Provider Facilities
Provider Features
In countryside
Outdoor Attraction
Village Location
Target Markets
Family Fun
Marketed Towards Families
Tours and Demonstrations