Art Galleries
Oldham's thriving art scene including galleries, kids activities and opportunities for adults to learn new arts and crafts.
Gallery Oldham is a unique and bold landmark forming part of Oldham's new Cultural Quarter. The gallery now has one of the largest exhibition programmes in the North West, including artworks and objects collected since 1883. Extensive natural history, social history, art and craft collections provide a fascinating view of Oldham, past and present.
Visitors can find out what's on by attending lunchtime talks on the second Wednesday of every month. The 'Behind the Scenes' events provide a chance to take a closer look at the Gallery's collections.
Free family activities and a constantly changing events program take place throughout the year. Why not attend one of our adult art and craft courses.
Saddleworth Museum also includes an Art Gallery which showcases the best local and regional contemporary art. Exhibitions change every six weeks and there's a chance for visitors to buy some of the artwork on view. Other events include curriculum based workshops and half term 'Boredom Buster' for kids and craft days for adults.
Millyard Gallery exhibits Fine Art in a simulating and attractive environment. The three main exhibitions hosted by the gallery each year feature established artists with national reputations.
Saddleworth Group of Artists was founded in 1950 and were formed from a group of friends who wanted to promote the study of fine art and hold meetings and exhibitions. The has now excelled and the group currently have 45 members. The group hold many exhibitions throughout the year along with an annual summer exhibition at Saddleworth Museum.
Oldham Famous Faces
Find out about Carl Cox here.
Find out about Annie Kenney here.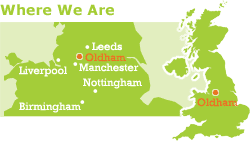 Event Highlights