The Saddleworth Group of Artists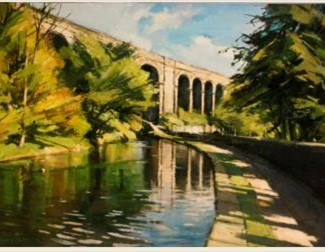 Contact Information
Description
The Saddleworth Group of Artists was founded in 1950 by the watercolour painter, Ellis Shaw, and some friends who wanted to promote the study of fine arts and hold meetings and exhibitions. They rented the top floor of a house in Spring Street, Uppermill, where, besides organising exhibitions and life classes, they held workshops funded by the Carnegie Trust. The Oldham artist, James Fitton R.A. and L.S. Lowry, who took a keen interest in the group and came to all the exhibitions, were among the many well known tutors.

In 1979 the lease ran out at the Spring Street studio, but Roger Tanner had spearheaded extensions to Saddleworth Museum a couple of years previously and the new art gallery provided exhibition space for the group. The large summer show continues to be held here annually, and in addition there is a Christmas show at Brownhill Countryside Centre. Currently plans are well underway for a major exhibition at Gallery Oldham to run from January to April 2007.



In August 2006 the group hosted for the second time the international art event known as the Journees de Peinture. Twenty artists from France, Switzerland, Belgium and America painted each day in and around Saddleworth villages, and exhibited their work at the Museum Art Gallery, Uppermill.


There are currently forty five members of Saddleworth Group of Artists, some full time professionals, and all seriously committed to their work.
The current President is Helen Sweet