Walking and Trails
There are countless walks around Oldham and the surrounding countryside just waiting to be discovered.
From a leisurely stroll along the Huddersfield Narrow Canal towpath, to a hill walk in the uplands at Crompton Moor there's something for everyone. The Oldham Way and two national trails, the Pennine Way and Pennine Bridleway, provide great long distance routes too.
If you are looking for a family friendly walk, try our 'Lets go for a walk' scheme, showcasing 9 of Oldham's fantastic parks and countryside sites. This joint initiative from Oldham Council and Oldham Community Health Services offers a great way to have fun and get active and also includes free guided walks (contact Gaynor Keane 07870857972 for details).
Take a look at the New Heritage Trails and Family Orientated Quest for the Castleshaw Valley.
South Pennines Walk and Ride Festival usually takes place during September. Exploring the Saddleworth Villages and surrounding countryside, moorland, canals, reserviours and packhorse trails.
Download a trail guide, or pick up a copy of these leaflets and many more, at our Tourist Information and Countryside Centres
Lets Go for a Walk Calendar 2014
Chadderton Hall Park (no leaflet available at present)
The below are not included in 2014 calendar but why not go along and visit them for a self-guided walk
Countryside trail guides
Saddleworth Village trail guides
Audio trail guides
Heritage Trails, Roman Forts and Castleshaw Quest
Oldham Famous Faces

Find out about Helen Bradley MBE here.

Find out about Karen Elson here.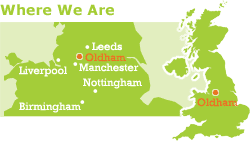 Event Highlights