Canal Trails & Trips
Huddersfield Canal
Huddersfield Canal Society celebrated the 200th anniversary of the opening of the Huddersfield Narrow Canal. To mark the occasion we commissioned from the Oldham Theatre Workshop a play depicting episodes from the history of the canal. Entitled "Reflections of the Past" .
We have been able to develop this project as a result of grants we have secured from three sources. These are The Heritage Lottery Fund, Pennine Prospects and Oldham Council's Saddleworth and Lees District Partnership.
Rochdale Canal
Rochdale Canal runs through Failsworth and Chadderton.
Lovers of natural and industrial history can take a boat trip along the lovingly restored Huddersfield Narrow Canal, taking in the scenic villages of Saddleworth and passiong through the Standedge Tunnel, UK's longest, highest and deepest tunnel.
In an increasingly fast-paced and crowded world, the Canal & River Trust's historic canals and rivers provide a local haven for people and nature. We're the new charity entrusted with the care of 2,000 miles of waterways in England and Wales.
Just a few steps away from our everyday lives, waterways give us a much-needed space where we can escape. Our waterway network is a national treasure and the Canal & River Trust is here to ensure that it is protected forever.
Uppermill was once famous for its wool and cotton mills. The River Tame supplied the power and the Huddersfield Narrow Canal provided the transport. Building the canal was a great achievement. There are 74 locks along its length, raising the canal to 196.6 metres (645 feet) above sea level. It's Britain's highest canal!
Pennine Moonraker operates trips from the village of Uppermill.
Oldham Famous Faces

Find out about Helen Bradley MBE here.

Find out about Karen Elson here.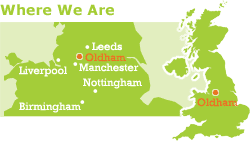 Event Highlights