Huddersfield Narrow Canal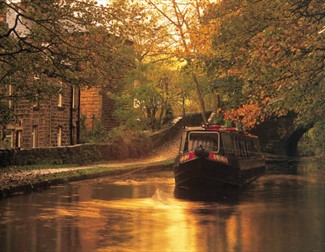 Contact Information
Description
Nestled between the Saddleworth villages of Greenfield, Uppermill, Dobcross and Diggle the Huddersfield Narrow Canal is a firm favourite for visitors and for family days out.
Visit the canal marina at Greenfield and enjoy a canal side drink or bite to eat in the pub, or head to Uppermill for a boat trip on the Pennine Moonraker (also available for hire for group bookings - day and evening events, visit www.saddleworth-canal-cruises.co.uk).
Walking along the canal towpath you can follow the Huddersfield Narrow Canal sculpture trail. Reflecting images of life on the Canal, pieces of public art have been designed by local artists and school children. It includes two canal themed play areas at Diggle Fields (near the village duck pond), where mini sculptures and interactive games lead the visitor on a network of paths to the Standedge Tunnel entrance (the longest, deepest and highest above sea level in the country).
In 2011 the Huddersfield Canal Society celebrated the 200th Anniversary of the opening of the Huddersfield Narrow Canal and to mark the occasion, commissioned by the Huddersfield Canal Society and Oldham Theatre Workshop "Reflections of the Past" was performed in September 2011. If you saw and enjoyed the production then you have another chance to do so, if you did not see it then, you can now experience what you missed. Oldham Theatre Workshop, in collaboration with the Society, has produced an audio version of the production.
Just before the tunnel, Grandpa Greenes canal-side ice cream cabin provides the perfect spot for a family treat, offering the chance to indulge in locally made luxury ice-cream and the chance to read the informative Towpath Guide published by the Huddersfield Narrow Canal Society whilst having a break.
The Huddersfield Narrow Canal, through the Saddleworth area of Oldham, re-opened in May 2001 following a £30 million restoration project funded mainly by the Millenium Commission and English Partnerships. It is more than 50 years since the waterway was last open to through navigation.
The Canal played an important part in the devleopment of the area during the Industrial Revolution. Now it's role has changed to that of a major attraction for visitors, providing leisure opportunities for towpath walks and canal boat rides aboard the Pennine Moonraker through breathtaking countryside.
The waterway runs for 20 miles between Ashton-under-Lyne and Huddersfield - passing through scenic Saddleworth villages of Greenfield, Uppermill and Diggle - before entering the Standedge Tunnel - the longest, highest and deepest canal tunnel in the country.