Theatre
Theatre goers will be spoilt for choice by Oldham's varied entertainment scene.

Located in the heart of Oldham is the Coliseum Theatre, with a 585 seat auditorium and smaller studio space for more contemporary plays. The old world quality of the building, the friendliness of the staff and the entertaining and sometimes challenging productions will provide a memorable experience to visitors.
The Millgate Arts Centre in Delph houses the Saddleworth Players. This thriving amateur theatre company produces five plays per season and a Christmas production, as well as taking part in the four-yearly Saddleworth Festival of the Arts.
Playhouse2 in Shaw for top quality drama, comedy and music in a unique atmosphere. Home to the amateur Crompton Stage Society, Playhouse2 is the venue for a wide variety of entertainment, professional and amateur.
The Lyceum Theatre are based in the lower ground theatre of the Lyceum Building in Union Street, Oldham. The intimate 100 seat theatre has a varied programme on offer and a gallery space for local art exhibits.
Grange Arts is a fully professional theatre which is owned and operated by The Oldham College. The centre is used extensively by Performing Arts and Technical students, both for training purposes and for showcasing their productions. The venue can also be hired by companies for any kind of event
Oldham Theatre Workshop (OTW) is renowned for producing some of the country's finest acting talent. Anna Friel, Anthony Cotton and Suranne Jones all graduated from the acclaimed youth theatre group. OTW stage two major productions each year at venues across Oldham.
Peshkar is the North West's leading theatre and production company specialising in British Asian productions. The company tours a regular programme of cutting edge, ultra contemporary theatre.
Oldham Famous Faces
Find out about Carl Cox here.

Find out about Karen Elson here.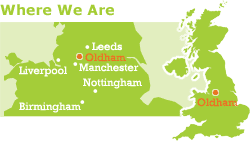 Event Highlights