Museums
The Saddleworth Museum is situated in the 19th century Victoria Mill, in a beautiful and historic location beside the Huddersfield Narrow Canal in Uppermill.
The museum is full of intriguing objects from the past and tells the story of the people who have created Saddleworth's landscape and character. Get an insight into Saddleworth's history, from the prehistoric hill top hunters to the woollen mill workers.
The museum's displays change regularly so there's always a reason to go back.
Oldham Famous Faces

Find out about Eric Sykes here.

Find out about Sir Winston Churchill here.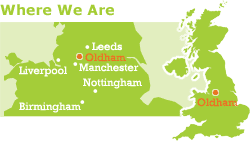 Event Highlights