Joe Swift's Gardening Blog
13 Sept 2010

I'm a huge fan of exotic architectural plants and at this time of year they can help turn your garden into a holiday destination. Bamboos, palms and tree ferns all look great when mixed in with some hotter coloured perennials such as crocosmia and red hot pokers. Sure, some palms and tree ferns will need protection through the winter by fleecing them over, or can be grown in a pot and moved, but bamboos are really tough and doesn't fare so well in pots as they dry out too quickly so should be grown directly into the ground and watered well for the first year or so.

Sweetcorn looks pretty exotic too but of course the advantage is that you can eat it. Home grown is way better than anything you can buy in the shops- so sweet and tender, but that's as long as you can get to it before the birds do. The problem is that they know precisely when it's ready. Once the silky tassles on the end of the outer leaves start to turn brown and shrivel this is the first clue and time to start testing.

Peel back the outer leaves a little and press a seed kernel with your fingernail so that the liquid comes out. This liquid is the cobs 'tell'. If it's a creamy coloured it's perfectly ready. If the liquid is watery it's under ripe so you'll need to wait a few days and if the liquid is almost like dough it's over ripe, but should still be fine. Happy Gardening, Joe.

Happy Gardening, Joe.

______________________________________________

6 Sept 2010

You're garden should smell great at this time of year. There are many summer scented plants that will fill a small garden with intoxicating perfume. Of course roses are high up on the list (don't forget to dead head when they've finished flowering as many will flower again. As well as roses there are many scented climbers. You can't beat the common jasmine, jasminum officinale, whose tiny white flowers pump out the best most easily recognisable fragrance, especially in the evening. Honeysuckles are tough and easy to grow in most soils and are ideal for scrambling on a large fence or over a garage roof. The late Dutch honesuckle, Lonicera periclymenum 'Serotina' is a good one and has two tone cream and dark red flowers that keep going and smell fab well right into late summer.

Cytisus battandieri, the pineapple broom makes an unusual wall shrub with its silky silver leaves and large cheery yellow flowers that really do smell wonderfully of pineapples!

If you want scent from perennials look to plant them in blocks and drifts to bulk them up both visually and aromatically. Verbena bonariensis, verbena rigida, the wild rocket hesperis matronalis and many phlox paniculata varities all have a fab scent as do most lilies which do well in pots.

Some border annuals such as Cleome, night scented stock, Nicotiana sylvestris and the evening primrose oenethera biennis all have particularly god fragrance especially at the end of the day when the garden starts to cool down. Who needs to go on holiday when the scents in your garden can transport you all over the world!

Enjoy your garden, Joe

______________________________________________

31 Aug 2010

Does your garden look great in spring, fizzle out during high summer and then come back to life once again in the autumn? It's a common scenario in August and this 'colour gap' can be a tricky one for most gardeners to fill. A timely injection to help jazz things up will need a little planning, perhaps a trip to the local garden centre or nursery and an input of energy for sure. Look for gaps where you can squeeze in some plants that will come up at this time every year and that will help solve the problem in the long term. Perennials such as Echinacea, hemerocallis, fiery crocosmias, verbena bonariensis, achillea and perovskia will all be in flower around now and are extremely useful and vibrant plants. If you put them in now make sure to water them well. Some perennials which have already flowered such as delphiniums, hardy geraniums and early salvias which if cut hard back after flowering the first time will flower again later on if fed and watered after the snip.

Pots with annuals will also help to keep the colour going till things cool down in late summer as long as they are deadheaded and fed regularly. Remember that pots don't always have to be placed on paving or gravel either and can look extremely effective sited directly into flower beds and surrounded by foliage. There are also pots that can hang on walls to help break them up and bring colour in just where it's needed.

Enjoy your garden, Joe

______________________________________________

16 Aug 2010

There are some fancy garden lighting set ups on the market that will turn your garden into an incredibly atmospheric space on a summers evening. Lighting will not only change the way you see your garden and the plants in it but will extend the use of it too at other times of the year. There are some solar lights which don't need any cables and will provide ambient light and many low voltage kits that are completely safe and use very little power. You don't have to splash out much at all, I've lit my garden many a time using a bag of 50 or so T-lights. Place them into Jam jars and dot them around the garden, along paths, on the top of walls and in amongst plants in beds. They flicker beautifully and make the prefect setting to invite a few friends round. Of course you need to be careful with naked flames especially if there are children around.

In the veg garden this is the perfect time to sow the ever popular oriental vegetables such as Pak Choi, Bok Choi and Choy Sum. If you sow before mid summers day they tend to bolt and seed, but now the days are getting a little shorter they'll germinate and grow strongly. Sow quite thickly so that you can pick and eat some smaller leaves and leave some of them so they mature. Ideal for the perfect stir fry towards the end of summer. Enjoy!

Happy gardening- Joe

______________________________________________

9 Aug 2010

Some of you may be heading off on holiday soon for a week or two. If so, I hope you have a good break. As the weathers been so dry I bet you'll be worried about your garden and rightly concerned about how it will look upon your return. I always give it a quick once over with my holiday 'action plan' before I head off.

Weed thoroughly as weeds can spring up in no time, flower and seed which will add to your problems over the next few years as well as months competing with your plants for nutrients and moisture.

Water thoroughly and mulch the soil around key plants to help retain as much moisture as possible around their roots.

Put all pots and containers that can be moved into a shady spot and water thoroughly. I have a cheap kids paddling pool which I fill with a few inches of water and place the pots into them to stop them drying out.

Cut back any perennials that have finished blooming or will do while you're away. Some will reward you with a second flush later in the year.

Cut the lawn before you go, but if it's very dry leave it a little longer than usual and don't scalp it!

Pick any edible crops that are ready or will be ready whilst you're away so that they don't ripen and start to rot on the plant. This can encourage insects and fungal diseases.

Enjoy your garden, Joe

______________________________________________

29 July 2010

Surely this is the time of year when the garden should be used and enjoyed as much as possible as well as doing a few, but hopefully relatively light gardening tasks. Winters the time for heavy digging, summers for outdoor living! If so then you'll probably need some much needed shade too as it's been hot recently and unless you're a 100% sun worshipper will want somewhere cool to hide and relax from the heat of the day? Trees create the best dappled shade and when they transpire in hot weather significantly reduce the temperature beneath their canopy. If you haven't got a mature tree you can sit under then how about a parasol or pergola?

A parasol or sun shade has the advantage that it can be put up and taken down in no time and placed just where you want it. A pergola structure however gives a more permanent feel to the garden and also creates an opportunity to grow some scented climbing plants up and over it, adding instant and often much needed height to the overall structure of your garden. Roses, Jasmine, wisteria and honeysuckle are all good choices, but most of them are fast growing so don't overplant and risk ending up with a mass of tangled growth. Grape vines are becoming more popular and although not scented are tough plants with great foliage and fab autumn colour. In good summers they'll produce grapes too, some which can be eaten and others you could make your own wine from. Imagine that, sitting under your own pergola with a glass of your homemade wine!

Enjoy your garden, Joe

______________________________________________

22 July 2010

Water has been introduced into gardens for centuries to bring a cooling presence, sound and some movement to the summer garden. I love my 2 metre by 1 metre pond as it also brings plenty of wildlife in too, therefore increasing the biodiversity, something we can all help and 'do our bit' with in our gardens. Well this is the international 'Year of Biodiversity' after all. It could be an adventurous pond complete with water feature or a very small pond. When I say 'very small' I do mean tiny- something the size of a washing up bowl! As long as you have some oxygenating plants submersed in the water to keep it clear and sweet, and top it up (ideally with rainwater from your water butt) when the level drops through evaporation , then it will bring all manner of wildlife in.

You could also plant some marginal plants and perhaps a dwarf water Lily to add interest and a different kind of planting to your garden. A naturalistic pool should have at least one shallow side where wildlife can easily get in and out and hide the edge with some informal stones, under which frogs and insects can hide. In the autumn put a net over the top of it to stop leaves getting in which will otherwise would break down in the water and make it smelly. Of course if young children play in your garden you'll need to be careful as even a very shallow pond can be dangerous.

Happy gardening- Joe

______________________________________________

17 July 2010

You can still sow quick growing salad crops now such as rocket, mizuna and lettuce leaves. I buy mixed salad leaves in packets as they produce a salad ready to eat without any faffing! You can sow direct into the ground onto a well weeded area of good soil in regimented rows or do as I do by 'broadcasting' the seed onto a larger patch, and marking it with a label and string so I remember what's in there. For cut and come again salad leaves sow at a far higher density than on the packet with a view to cropping with a pair of scissors whilst the plants are young for delicious fresh leaves. If well watered and fed after cropping the plants will carry on growing and you can cut a few times before they're exhausted.

If you sow some pots now they will be useful to plant out into the gaps in the vegetable garden when you've harvested other crops in a few weeks time. If your courgettes, peas and beans are ready to pick then don't hesitate. In fact picking will actually encourage the plants to keep producing and stop them switching off as they can do if left. It'll also stop your courgettes turning into marrows from one week to the next! If your indoor plants and citrus look like they could do with some fresh air then take them out onto the patio for a few weeks and water with rainwater. Some considerably pick up after a week or so outdoors- just like I do!

Enjoy your garden, Joe

______________________________________________

8 July 2010

I know many of you will be growing your own tomatoes as- put quite simply-they taste so much better than anything you can buy in the shops. They are easily grown in pots or in growbags- go for around two to a bag. The key to successful tomatoes is even watering and never letting the soil dry out completely as this can lead to the skins cracking. Once you see the plants yellow flowers then that's the ideal time to start feeding regularly with a liquid tomato feed.

I don't bother nipping out the side shoots (between the trusses) of the bush varieties, but if you are training cordons of larger tomatoes up a cane or string they will need nipping out back to the main stem to encourage stronger growth and better fruit. Hedges should also be trimmed around now- sooner rather than later in fact. It gives them a chance to put on new growth which will harden off before the first frosts this autumn, whereas if left too late the new leaves can get hit by an early frost and turn and unsightly brown. Use hedge trimmers on hedges such as privet, yew or box, but for larger leaved hedges like Bay or Laurel secateurs will avoid chopping leaves in half and them turning brown. If you need some more hedging plants why not try to propagate some from the clippings left over by taking a 5" length, stripping off all the lower leaves, cutting cleanly at the bottom with a sharp knife and popping it into a pot with compost mixed with plenty of grit. Keep well watered in a shady spot and they should root quite quickly.

Till next week- Happy gardening, Joe

______________________________________________

29 June 2010

Hello all. Plenty to do this week. If you have some overcrowded bearded Iris which have finished flowering and need a bit of TLC then this is the ideal time to lift and divide them. Dig up the clump, and using a sharp knife cut off the outside, more vigorous rhizomes to sections about 6 inches (15cm) long. Cut back the leaves straight across the top to about 6 inches too and then re-plant quite shallowly around 5 new plants to every square metre. Discard the old dry section in the middle as it won't flower again. This should be done every 3 years or so.

Tall perennials such as delphiniums and phlox will need staking to stop them blowing over in the wind. I use bamboo canes as they are tall and strong but not too conspicuous. Tie them in with soft twine rather than wire to stop it cutting into the plants stems.

If your garden soil is dry the best way to lock moisture in is by mulching it with organic matter. This can be old compost, spent mushroom compost (which is on the alkaline side) or well rotted manure. Make sure the soil is weed free and moist first- so after some rainfall is best- and then place the mulch on the soil about 2 inches (5cm) thick. If you don't have enough for all your soil areas concentrate around key shrubs and perennials. It's a busy week in the gardening schedule, but make sure to take time out some time out to enjoy it too whenever the weathers good!

Happy gardening- Joe

______________________________________________

22 June 2010

There is plenty to both do and enjoy in the garden at the moment. Roses are in full bloom, filling the garden with colour and scent- remember to dead head them once the blooms have faded as many varieties will thank you for it again later in the year by flowering again.

Spring flowering shrubs such as spirea, viburnum, lilac and phildelphus will all have finished flowering now and should ideally be pruned. Rather than giving them the chop all over which will end up in a stodgy lollipop shape, thin them out lightly by cutting branches ands stems back down to where they meet the main stem of the plant. Take one in every three or four out starting with the ones that are crossing or looked dead or diseased so that you end up with an open plant where the air can circulate. You can use the softwood prunings to take new cuttings from if you wish- plants for free- can't be bad!

Water annuals and vegetable plants, but don't just sprinkle hose on the top of the soil as this will only draw the roots up to the surface. Water thoroughly and less occasionally so the plants roots are drawn down deeper into the soil prospecting for moisture. This will ensure stronger plants and better crops.

Happy gardening- Joe

______________________________________________

15 June 2010

Hello all and welcome to my regular gardening blog. I'll have some practical updates and hopefully plenty of inspiration too to help get you in the mood and you make your garden the place to be this summer.

This is the time to get your annual bedding plants in if you haven't already done so- it's not too late and they'll just keep flowering all summer long bringing plenty of colour to the garden just where you want it. Pots, containers, hanging baskets and bare patches of soil in beds can all be filled with a huge range of plants including snapdragons, geraniums, salvias, gazanias, verbenas and of course busy lizzies which are particularly good in shade.

When it comes to colours I tend to either stick to the cool spectrum of colours together (blues, whites, purples and pinks) or the hotter ones (oranges, yellows and reds), but of course you can combine them to your tastes and perhaps you like the odd clash?

Once planted water in well and then it's a case of deadheading by picking off spend flowers and feeding regularly with a liquid feed (a tomato feed is perfect) to keep them going all summer long. Water retaining granules are a good tip as they work well in hanging baskets and pots. Mix them in with the compost before planting and they hold onto water for ages and stop the compost drying out.

Happy gardening- Joe
Further information about Joe Swift:
Joe has been a regular presenter and designer on Gardeners' World, a co-presenter on the RHS Chelsea Flower Show, Gardeners' World Live, Hampton Court, RHS Tatton Park Flower Show, Open Gardens, and a design judge on BBC's Gardener of the Year.
He has also written a book - The Plant Room - and writes for the national press, websites and gives live talks about horticulture. He has a famous dad - Clive Swift of Keeping up Appearances.
Oldham Famous Faces

Find out about Helen Bradley MBE here.

Find out about Eric Sykes here.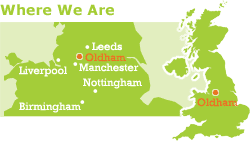 Event Highlights