Gardening
Discover Oldham's breathtaking scenery and open spaces throughout the seasons.
From historic Alexandra Park (external link) to the outstanding natural beauty of the Peak District National Park (external link) you'll be spoilt for choice all year round.
May reveals swathes of woodland bluebells and summer opens up a riot of colour across the town centre's award-winning parks and gardens. As the seasons grow autumn tints of wind-blown oaks make way for the wonder of winter landscapes. Watch the season's change and explore nature at Brownhill Countryside Centre's award winning accessible nature garden or join in one of the great gardening events happening throughout the year.
Visit one of our garden centres and fill your garden with brightly coloured plants, herbs, large specimen shrubs and conifers. Discover Daisy Nook Garden Centre, in the picturesque valley of Medlock. Next to the Dasiy Nook Country Park, and Newbank Garden centre on the edge of the pretty Saddleworth village of Dobcross. A wide range of plants, garden furniture, barbecues and much more will inspire keen gardeners and with great food on offer at both locations you can treat yourself to a coffee, cake or lunch after all that shopping!
Oldham Famous Faces

Find out about Sir Winston Churchill here.

Find out about Helen Bradley MBE here.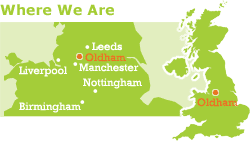 Event Highlights