Yanks are back in Saddleworth 2020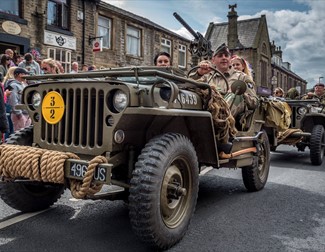 Contact Information
Saddleworth School
High Street
Uppermill, Oldham
OL36BU
Description
Yanks are Back in Saddleworth 2020!
On August 8th-9th 2020, the annual military show & vehicle parade returns to the villages of Uppermill in Saddleworth. The event brings a wide selection of fabulous 1940's entertainment, historical displays and much much more…
An unforgettable day out and fantastic experience for the everyone as the "Yanks" set up camp in the grounds of Saddleworth School in Uppermill, Saddleworth. This is a huge event that winds back the clock across the whole area taking you right back to World War Two!!!
This year is the 41st anniversary of the Hollywood movie "YANKS" in 1979 starring Richard Gere. Many locations in Uppermill and neighbouring Dobcross were used in the film. Just like the movie set, living history reenactors and vintage military vehicles owners recreate an atmosphere of Wartime Britain. Lots of wartime entertainment, period stalls, dancing, military vehicle parade and much, much more…!
Huge Display of Military Vehicles - Now in its 18th year open to all Military & Classic Vehicles from 1914 to the Gulf war. You will see, Military Vehicle Encampment, Militaria & Vintage stalls, Mr Churchill, General Patton & Monty Visiting the troops.
Road Directions
Driving to the event? Please enter postcode 'OL3 6BU' for SatNav devices.
PLEASE NOTE THERE IS NO PUBLIC PARKING AT THE SCHOOL BUT THERE IS A PARK AND RIDE SCHEME AT WELL-I-HOLE FARM OL3 7LT. SPACE IS LIMITED AND ONLY AVAILABLE FOR VISITORS ATTENDING THE MAIN EVENT AT SADDLEWORTH SCHOOL.