Sports
The range of facilities on offer in Oldham reflects the area's passion for sport.
If it's the great outdoors you're looking for, Oldham's countryside is conveniently placed to let you explore the Pennine countryside and the Peak National Park. Whether it's walking, cycling, horse riding, rock climbing or sailing, Oldham's natural beauty provides the perfect backdrop for any activity.
If you're more of a spectator, there's plenty to keep you entertained including football, cricket and rugby league.
You'll also find many sports centres, Wellbeing Centres and gyms throughout the borough of Oldham with provision for a range of indoor activities including squash, badminton, basketball, swimming and much more.

Oldham Famous Faces

Find out about Phillip Schofield here.

Find out about Christopher Biggins here.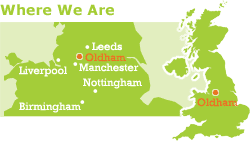 Event Highlights