Playhouse2 - The Ghost Train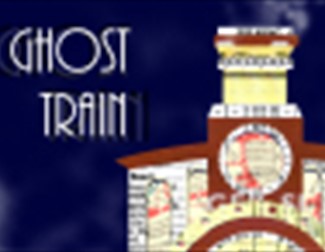 Contact Information
Playhouse 2
2 Newtown Street
Shaw, OLDHAM
Lancashire
OL2 8NX
Description
The Ghost Train
By Arnold Ridley
Saturday 5 – Saturday 12 October 2019
Playhouse2, 2 Newtown Street, Shaw.
Compton Stage Society presents "The Ghost Train"
Written by Dads' Army's very own Godfrey, this play revolves around a party of assorted railway travellers who find themselves stranded in the waiting room of an isolated country station one evening.
Despite the station master trying to persuade them to leave the site, they refuse – citing the lack of alternative accommodation for several miles around as their reason. He warns them, however, of the supernatural danger of a spectral old railway carriage train that sometimes haunts the line at night, bringing death to all who set eyes upon it. Incredulous of his story, the group still refuse to leave, and he departs leaving them facing a terrifying night at the station.
This is a Halloween tale bound to raise the hairs on your neck.
All performances start at 7.30pm. Doors and Bar open at 7.00pm.
Tickets are priced at £10.00 and go on general sale approximately 3 weeks prior to each show.
Road Directions
We are very fortunate at Playhouse 2 to have an abundance of parking options for our members and audiences to use when visiting us.
Please note that parking times are subject to change so bear this in mind and check the individual signage on the car park that you are using. 
Public Transport Directions
Metrolink is now operating a full service to Shaw and Crompton from Manchester and Rochdale. Trams operate every 12 minutes to/from Rochdale and Manchester. The trams run until around 12.00am on weekdays, 1.00am at weekends, and 11.00pm Sundays. We are about a 4 minute walk from the station. As you leave the platforms, turn left on to Beal Lane and walk about 300m and take the third left turning on Eastway. Playhouse 2 is about 150m on the right, opposite ASDA.
There are regular bus services to Shaw, with the local stops on Market St only a few metres from Playhouse 2. The services that use these stops are : 58, 59, 181, 182, 403, 404, 408, 428, 435, 982, X82.