Oldham's Family History Festival 25-29 March 2019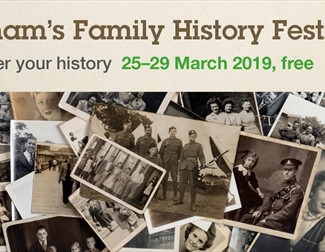 Contact Information
Crompton, Failsworth, Oldham, Uppermill, Royton and Lees Libraries
Description
Oldham's Family History Festival
25-29 March 2019
Are you interested in your family history? Find out how you can trace your ancestors at various sessions across the borough thanks to Oldham Libraries and Oldham Local Studies and Archives. With expert advice on hand, opportunities to develop and improve your research skills, and amazing resources available for you to use, discover your past this March and share it with others.
Here is a full list of events taking place during the week…
How to use workhouse records
Monday 25 March, 10–11am Crompton Library, OL2 8QY
Learn how to use workhouse records, where to find them, what they are and what they tell us.
Tracing your First World War ancestors
Tuesday 26 March, 10–11am Failsworth Library, M35 0FJ
Was your ancestor in the First World War? If you want to find out more, we'll have tips on where you can look and what you might find.
Beginning your family history
Wednesday 27 March, 1–2pm Oldham Library, OL1 1AL.
Find out how to trace your family history, including what websites to use and what information you need.
Accessing newspapers online
Thursday 28 March, 2–3pm - Uppermill Library, OL3 6AP.
Discover the British Newspaper Archive which is available for free across Oldham's libraries. Library staff will be on hand to help you sign up to the service and navigate you through the site, which hosts more than 30 million newspaper pages.
Life story
Thursday 28 March, 10–11am Royton Library, OL2 6QJ.
Suggestions on how to write and organise your family history and preserve it for future generations.
Share your family history
Friday 29 March, 10–11am Lees Library, OL4 5DA.
Bring along your family history and share it with others, swap stories and tell us your surprises.
Help desk
25 and 27 March, 2–4pm - Oldham Local Studies and Archives, OL1 1DN.
Stuck with your family history and not sure where to look? Bring along your research for some suggestions and hopefully some answers.
Ancestry Library
Make your family history search even easier by gaining access to the Ancestry® Library Edition. With billions of records from across the world ready to look through, including immigration records, family histories and photos, this free service is available on all library computers.
For more information on these events and to book your place, please contact:
T: 0161 770 4654