Off the Rails Comedy Club - Andre Vincent, Garrett Millerick, TBC, MC Rob Riley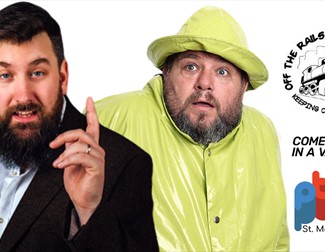 Contact Information
The Royal George
Manchester Road
Greenfield, OLDHAM
Lancashire
OL3 7HX
Description
Off the Rails Comedy Club - Andre Vincent, Garrett Millerick, TBC, MC Rob Riley
8th October 2022 at Royal George. Greenfield.
Raising funds for St Mary's Primary PTA
Show starts 8pm Tickets £10 from the venue or online
Acts subject to change. Fully seated. 18+ Proper sweary, swearing. We want everyone to have a great night so please pop your phone on silent and don't chat whilst the show is in progress. Thanks! Sorry, but we can only reallocate or refund if the show is cancelled.
Circus performer, clown, comedy historian and, of course, stand up comedian Andre Vincent has many strings to his bow. So many, he's going to need a bigger bow….
Born in a Woolworth's department store Andre has since appeared in the oddest of places including a bullring in Columbia, a Nova Scotian baseball stadium and Vietnamese refugee camps in the South China Sea! This multi talented performer is equally at home improvising, riffing off the crowd or unleashing one of his many scalpel-sharp one liners and is a must see for all those who love laughing till it hurts.
Andre's many claims to fame include having opened for the legend that was Bob Hope as well as teaching Cliff Richard to ride a unicycle!
"One of the best" The Times "Ferociously funny" Sunday Times "Originality and biting humour" The Scotsman
"Blokeish jollity with welcome shots of rage and giggling incomprehension" Metro
Entertaining the metropolitan elites at London's Soho theatre or the Edinburgh Fringe is one thing but keeping baying crowds of UK and US squaddies happy requires a slightly different skill set! In fact, keeping them so happy you get asked back three times is the hallmark of a solid comic at the very top of their game and that sums up the wondrously monikered Garrett Millerick perfectly!
Co-host of hit podcast Laughable (alongside Jayde Adams and Red Richardson), Garrett has also performed his stand up on hit US talk show Conan as well as all the usual venues, tours and support slots to be expected from a comedian this good.
Acerbic yet delightful, grumpy but both hilarious and passionate. We really can't recommend Garrett Millerick to you enough.
"The comic that other comics want to be. Brilliant." ★★★★★ Three Weeks
"Wonderfully funny." ★★★★ The Times "A unique joy." ★★★★ The List
The show comes complete with one act to be confirmed and MC Rob Riley. Off The Rails Comedy Club is programmed, promoted and produced by Comedy In A Van
The venue is fully licensed, sells JW Lees' cask ales and has ample free parking.
.
Public Transport Directions
Trains
The Royal george is located less than a mile from Greenfield Train Station and 1.4 miles from Mossley Train Station. Both are on the Huddersfield line running between Manchester Victoria and Huddersfield every hour. A full breakdown of train times is available from the National Rail website here. Buses
Buses passing the site (that stop at The Royal George pub) are numbers 350 (going to and from Oldham and Ashton) and 354 (going to and from Ashton and Denshaw). A full breakdown of bus timetables can be found here.