Music
Oldham has a vibrant music scene covering the whole spectrum of tastes from heavy rock to brass bands.
Take a look at the music events in Oldham.
For a chance to see one of Oldham's many up and coming bands in a relaxed, friendly atmosphere, visit one of our many thriving live music venues.
Visit Jackson's Pit for DJ'd and live music including folk, heavy rock, jazz, blues and motown.
Lees Live Lounge (external site) is located in The Swan public house on High Street in Lees. One of the Northwest newest Live Music Venues, offering live music of all genres every weekend, open late with free entry.
Whittles (external website) is a rock venue featuring live acts 6 nights a week and on Sunday afternoons.
In contrast, the Whit Friday Brass Band Concerts (external website) are part of Oldham's heritage with the earliest recorded contest taking place in 1884. Last year's event saw well over 100 brass bands in 20 different contests scattered around the moorland towns and villages of the western edge of the Pennines. This years event will take place on 13th June 2014.
Diggle Blues Festival (external site) - Usually held in June. A weekend of free blues performance in the scenic Saddleworth village of Diggle - where the Blues meets the greenery!
Oldham Famous Faces

Find out about Phillip Schofield here.

Find out about Carl Cox here.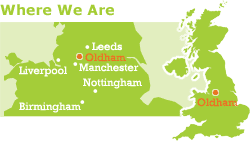 Event Highlights