Milltown Races - Oldham Half Marathon 2020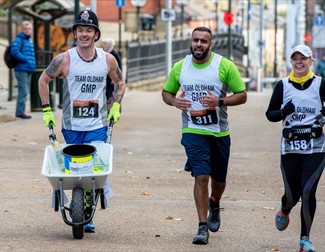 Contact Information
Oldham Leisure Centre
Middleton Road
OLDHAM
Lancashire
OL9 6AF
Description
Milltown Races Oldham Half Marathon
Sunday 25th October 2020. This event has been cancelled.
Are you a half marathon runner looking for your next challenge? Good news! The Oldham Half Marathon is back for it's eighth year.
A gruelling race, this half marathon covers a 13.1 mile run through Oldham and its many miles of countryside, pushing challengers to their limits whilst offering some of the best scenery the borough has to offer. Runners will travel a hilly route that will take them to the spectacular Saddleworth area of Oldham. Breathtaking views of the Saddleworth villages and the imposing moorland landscape of the Peak District National Park await. Returning via Grasscroft, Lydgate, Lees and the Glodwick areas of Oldham this race guarantees fantastic local support from the diverse communities of Oldham. Race starts at 09:30am in the High Street area of the Oldham Town Centre. With only 600 places available, it's important to sign up as early as possible to secure your space and get your training underway!
Entries continue to grow each year with a reputation of being one of the toughest half`s in the UK. Over 1100ft of ascent the Oldham Half is a serious proposition and represents a great challenge for all levels of runners.
Entry Price: £28 per person
Start Location: Oldham Community Leisure Centre
Registration: from 7am
Race Start Time: 9.30am
Minimum age: 18 years
Cash prizes for 1st, 2nd and 3rd placed Male/Female.
Double cash prize for setting a new course record currently held by Andi Jones at 1:09:52.2 (2013)
T Shirt, medal and a well-earned pat on the back for all!
Road Directions
Free town centre parking : You can park for free for up to 3 hours on all Council owned town centre car parks (listed below) every Saturday and Sunday. To qualify for this offer you must take a ticket from the pay and display machine for the length of time you are intending to stay.
Council owned town centre car parks: Civic Centre, Waterloo Street, Southgate Street, Bow Street, Bradshaw Street, Rock Street, Tommyfield (No Return Within 3 Hours) and New Radcliffe Street
What to do:
To take advantage of this offer you must take a ticket from the pay and display machine for the length of time you intend to stay. The ticket must be clearly displayed in the windscreen of your vehicle before you leave the car park. If you want to park for longer than 3 hours you must pay at the pay and display machine for the entire length of your stay. You can also park for up to 30 minutes on-street, seven days a week when you take a ticket from the pay and display machine.
Public Transport Directions
Access to Oldham town has never been easier thanks to Metrolink. The town centre line has three stops – Oldham Mumps, Oldham Central and Oldham King Street – meaning the many shops, attractions, events and leisure offer is all within a short distance. Journeys from Oldham Mumps into Manchester now only take around half an hour.