Live@thelibrary - "Dry" at Oldham Library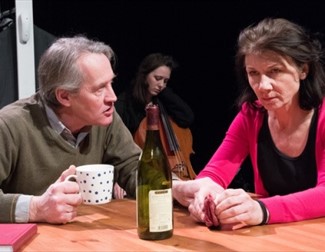 Contact Information
Oldham Library
Greaves Street
OLDHAM
Lancashire
OL11AL
Description
Dry
Oldham Library, Greaves Street, OL1 1AL, Oldham.
Thursday January 23, 2020 7:00pm £5
DRY is an edge of your seat drama about the misuse alcohol and the couple next door.
The Wilsons may be middle class and middle aged but there is nothing middling about their alcohol intake. Can they keep the 'toxic' out of 'intoxicated' and keep the family together, or is it a case of sorrows drowned? DRY is a one-hour drama, originally commissioned by the NHS, with music and humour alongside its serious message.
BOOK NOW Via Eventbrite (Opens in a New Window)
James and Ellen Wilson find themselves indulging in one dinner party - and one bottle of wine - too many. When supper talk turns from light and amusing to barbed and accusatory, is it time for them to think about their alcohol intake? Observing all is Chloe, their teenage daughter, whose cello playing provides a live musical emotional barometer of the household.
DRY is an edge of your seat drama about alcohol and the couple next door
'a stunning piece of theatre' Joanna Trollope
'…humour, pathos and shock as you watch the drama unfold' The Oxford Times
Each performance is followed by a Q&A session guest professionals from Turning Point and other organisations Ages 12+. One hour straight through.
Please be aware of the changes in the car parking at Sainsbury's. For more information please visit Sainsbury's directly.
Public Transport Directions
Oldham Library is easily accessible by car, bus and tram. The nearest car park is Southgate Street pay and display. Regular bus services operate from Manchester and outlying areas. The nearest stop is Oldham Central a two minute walk from Oldham Library. For information about bus and tram services visit www.tfgm.com or call 0161 244 1000.