Literature
Joined onto Gallery Oldham and situated in a bright vibrant Cultural Quarter with stunning views across the moors is Oldham Library. The library is open 7 days a week and you'll find a range of activities on offer with fun for families, under 5s, specialist children's and teenage libraries, reading and writing groups, story writing classes, school visits and much more.
Bookmark Festival is a celebration of all things literary in Oldham. The week long festival opens on 18th April through to 25th April 2015 with an exciting range of events happening across the borough that cater for readers of all tastes and genres. (Click on the events link to see all events listed)
Oldham Local Studies and Archives is dedicated to the collection and preservation of the archives, history and heritage of Oldham. For visitors who want to trace the history of their family or community, get a fascinating glimpse into what life was like 100 years ago or buy books and maps of the area, this is the place to go.
Oldham Famous Faces

Find out about Annie Kenney here.

Find out about Helen Bradley MBE here.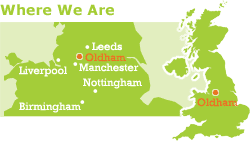 Event Highlights