Let's Go for a Walk In Oldham - Leesbrook: GM Walking Festival 2019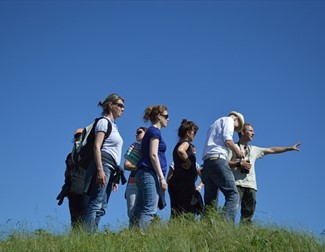 Contact Information
Lees Library
Thomas Street
Lees, OLDHAM
Lancashire
OL45DA
Description
Let's Go for a Walk in Oldham – Leesbrook
Thursdays 02 May, 09 May, 16 May, 23 May and 30 May 2019
Start time: 10:00am
Booking required: No
Meet Trish and Alan at The Lees Library for a short walk along Leesbrook Nature Park, following the river Medlock. Once renowned as the Spa of the North when a local doctor proclaimed the virtues of the Lees Fountain of Health. Part of the GM Walking Festival 2019.
Distance: 3-4 miles (Medium)
Meeting point: Lees Library, Thomas St, Lees, Oldham, OL4 5DA
No matter whether you're a stroller, roamer, shuffler, moocher or a marcher the Greater Manchester Walking Festival (GM Walking Festival ) has something for you. Back bigger and better for the fifth year, it runs from Wednesday 1st to Friday 31st May, and offers 400 free guided walks exploring towns, cities, the countryside, canals, riversides and parks across Greater Manchester.
In 2019 the aim of the event is to encourage residents of Greater Manchester to rediscover their local area, reconnect with their friends and neighbours and to get out and about more. Walks cater for all abilities and interests, from a romp around Alkington Woods, Middleton to a scenic wheelchair-friendly ramble along the Bridgewater Canal.
The Festival is delivered by GM Moving, in partnership with Transport for Greater Manchester (TfGM) with support from local walking groups and charities.
Public Transport Directions
Bus routes 180, 184, 343, 418