Festivals
Visitors to Oldham will find a varied festival program for the whole family, celebrating the area's rich cultural mix and the past, present and future of Oldham:-
There are many great festivals which take place in Oldham throughout the year, these include:
Saddleworth Festival of the Arts (external site) - Held every four years running from 6 June to 14 June 2015 bringing international artists together with local groups for a showcase of art, drama and music.
Whit Friday Brass Band Contests (external site) - 29th May 2015. The world famous Saddleworth and Oldham Whit Friday brass band contests. Like 'Brassed Off' but better!
Saddleworth Rushcart (external site) - 22nd & 23rd August 2015. This traditional festival runs over two days, with plenty of Morris Dancing and other festivities to enjoy!
Greater Manchester Fringe Festival (external site) Usually held in July, includes 26 different venues for avariety of shows in each.Celebrating new and emerging talent and encouraging anyone to take part, whatever thier show may be. See Oldham's Fringe event here.
Diggle Blues Festival (external site) - Usually held in June. A weekend of free blues performance in the scenic Saddleworth village of Diggle - where the Blues meets the greenery!
South Pennines Walk and Ride Festival (external site) - A fortnight of free walks, talks, horse and bike rides across Saddleworth and the wider South Pennines, September 2015
Festival Oldham - This is a yearly weekend festival that takes place in the heart of Oldham usually the last weekend in May, celebrating the very best art and entertainment the town has to offer. With shows, music and street theatre, this festival celebrates Oldham's past and future and proves itself to be a fantastic event.
Make sure you're a part of all the brilliant festivals taking place in Oldham!
Oldham Famous Faces

Find out about Sir Winston Churchill here.

Find out about Karen Elson here.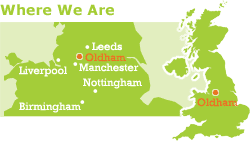 Event Highlights