Countryside
You'll find a whole host of festivals and activities for all ages throughout the year in Oldham's countryside.
Oldham's Countryside Centres offer a range of courses for adventure, leisure and learning and a year-round events programme. Group walks, gardening clubs, kids environmental clubs and much more are all on offer for the whole family.
In September each year there is even more to get involved with, during the two week South Pennines Walk and Ride Festival (external site)
Oldham Famous Faces

Find out about Annie Kenney here.

Find out about Carl Cox here.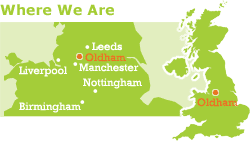 Event Highlights