Travel & Maps
Travel Information
Trams
Oldham's Metrolink extension connects to the borough to Rochdale, Central Manchester and beyond to East Didsbury.
Four stops connect Metrolink to the heart of Oldham town centre - at Mumps, Oldham Central and King Street and Westwood on Middleton Road. Find out more on the Metrolink website.
Park and Ride facility for Metrolink passengers are available at Derker, Oldham Mumps and Hollinwood. Cycle stands and lockers are available at the Freehold, Hollinwood and Failsworth tram stops.
Car
Oldham Town Centre is less than 10 minutes from both the M60 (junction 22) and M62 (junction 20).
Saddleworth's Pennine hills and historic villages are also less than 10 minutes from the M62 (junction 21).
Oldham Town Centre offer a free weekend parking offer, please click the for more details.
Details of car parks across the borough
Bus
Buses run from Manchester to Oldham every 10 minutes throughout the day. Further information on the Transport for Greater Manchester website or by calling the travel line number (0871 200 2233).
Coach parking
Coach parking is available and free (except where stated otherwise) in the following areas. Coach drivers must contact Oldham Parking Administration in advance (Tel: 0161 770 6654) and give the Vehicle Registration number.
Coach parking in Oldham Town Centre
Short Stay, Pick up / Drop off only - St Marys Way OL1 3US (Coach Layby)
Long Stay - Rock Street OL1 3US (On street parking, closest to St Mary's Way)
Long Stay - Bradshaw Street OL1 3US (On street parking close to Oldham Coliseum)
Long Stay - Kings Road OL8 2BJ (On street parking next to Alexandra Park)
Nearest postcodes for sat nav use
Coach parking in Saddleworth
Long stay – Saddleworth Sports Centre, Uppermill OL3 6HQ
Short stay (pick up / drop off) - Uppermill bus turning point OL3 6BD
Trains
Trains run from Manchester and Huddersfield to the Saddleworth village of Greenfield (a few minutes walk from Uppermill) every hour. More details on train times and tickets can be found on the Northern Rail website.
For public transport information phone Traveline 0871 200 22 33
Air
Oldham is only 30 minutes drive from Manchester Airport.
Oldham Famous Faces
Find out about Christopher Biggins here.
Find out about Carl Cox here.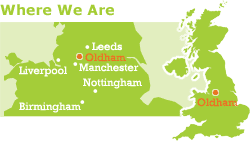 Event Highlights