Specialist Shops
Oldham has a diverse range of speciality shops selling a range of quality goods including delicious local produce, luxury chocolate and a collection of Asian shops selling fashion, fabrics, jewellery and much more.
Professional Computer Services Ltd
Oldham Famous Faces

Find out about Phillip Schofield here.

Find out about Sir Winston Churchill here.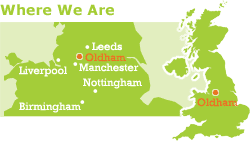 Event Highlights