Shopping
Oldham's town centre is a shoppers' haven, with an array of shops, a shopping mall and a traditional market.
There's something for the whole family at The Spindles Town Square Shopping Centre, located right in the heart of Oldham and easily accessible by car, bus and metrolink.
The Centre boasts a variety of retailers to suit all your needs, all under one roof and in a relaxed environment. You'll find most of the top high street names in clothing and fashion, jewellery, entertainment and toys.
Tommyfield Market is steeped in character and tradition and combines both modern and traditional facilities. with approximately 300 covered stalls offering a wide variety of products including fresh fruit and vegetable, meats, flowers, greeting cards, gifts & much much more, Tommyfield market is a must for a bargain hunter.
Oldham Street market is held on Curzon Street and Albion Street every Friday and Saturday where you will find fashion, Yum Yums Caribbean food, fresh meats and lots more.
When you need to take a break, put your bags down and rest your legs in one of the many cafes, coffee shops and restaurants dotted around the Town Centre.
Oldham Famous Faces
Find out about Annie Kenney here.
Find out about Christopher Biggins here.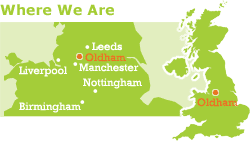 Event Highlights