Cask Marque
Cask Marque Pubs
A number of pubs and bars in Oldham hold the standard for a Cask Marque standard.
Pubs that join the scheme are visited unannounced by an independent assessor twice a year. In the first year they are visited twice in the first three months and in subsequent years they are visited once in the summer and once in the winter.
The assessor checks all cask ales on sale for - temperature, appearance, aroma and taste.
If all beers reach the required standard then the pub passes and it receives a plaque, framed certificate and merchandising material to inform its customers of the award and their rights.
Cask Ale is alternatively know as real beer, cask beer, real ale, cask conditioned, beer from the handpump. Its a fresh, natural product full of flavour and character. Cask Ale is one of the best tasting, most satisfying drinks in the world when served in good condition. Made from 4 wholesome ingredients, water, malted barley, hops and yeast its unpasturised, fresh product contains live yeast (the bio-yoghurt of the beer world).
If your looking for a watering hole after a hard day's work why not stop off at one of Oldham's Cask Marque pubs below:
The Old Bell Inn, Delph
The Carrion Crow, Oldham
Hare and Hounds, Uppermill
Squire Knott, Oldham
Three Crowns, Oldham
Toby Carvery, Chadderton
Up Steps Inn, Oldham
Oldham Famous Faces

Find out about Sir Winston Churchill here.

Find out about Karen Elson here.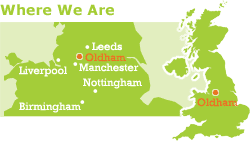 Event Highlights