Famous People
Politicians, musicians, actors, composers and supermodels, many famous people have been born in Oldham:-
Please note that all links are to external sites. Although every care is taken to ensure these links are up to date, relevant and accurate, Oldham Council cannot take responsibility for the content of external links.
Oldham Famous Faces

Find out about Annie Kenney here.

Find out about Christopher Biggins here.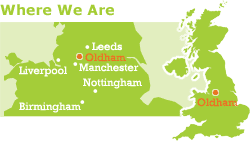 Event Highlights