Wildlife
Birdwatchers and wildlife enthusiasts can visit Oldham's countryside and discover rich habitats of international importance.
Saddleworth Moors form part of the South Pennines Moors area and is designated as a Special Area of Conservation (SAC) and a Special Protection Area due to its prominence as a habitat for ground nesting birds. The area supports breeding populations of red grouse, curlew and merlin, as well as golden plover, dunline and the short-eared owl.
The reservoirs throughout the area also provide valuable wintering and breeding habitat for wildfowl and waders.
Gallery Oldham holds over 6000 records of plants, insects, birds, amphibians, reptiles and mammals found in Oldham's countryside.
Oldham Famous Faces

Find out about Helen Bradley MBE here.
Find out about Annie Kenney here.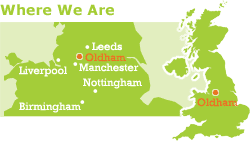 Event Highlights