The Parkin Academy Millnery Workroom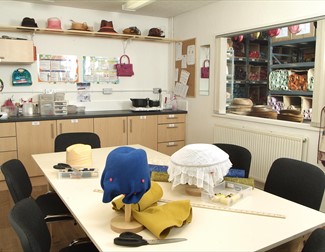 Contact Information
Prince of Wales Business Park
Vulcan Street
Oldham
Lancashire
OL1 4ER
Description
For just £25 per day (including VAT), you can have access to sewing machines, dyeing facilities, an eco-friendly oven and a huge selection of millinery accessories ranging from bases to brims, feathers to fabrics and satin to sinamay.


You can also choose your own elegant design of headwear by selecting a hat block from our range of over 75 interesting shapes and styles.


The workshop can be used on non-hat course days between 9am and 4:30pm and must be pre-booked.


The Parkin Academy Workroom has to be seen and experienced to be believed. This workroom is a spacious and well equipped oasis within a similarly well stocked warehouse. I dare any tutor or student to be anything other than impressed. Each cupboard and drawer is labelled with its contents, each tub or container, also labelled, when opened, reveals the top quality goodies within. The purpose built, full height, two kilowatt drying cabinet is both efficient and economic. There are numerous steam irons and steam generators, along with curling tongs and hairdryers. All this and then there are the blocks...both new and vintage sit side by side on suitably strong shelves just waiting to be brought to life be nimble fingered milliners. No student need arrive at the Parkin Academy with any tools or equipment whatsoever. Every item that they could possibly require is available for their use, and many items are also available to purchase from the shop.
The Parkin Academy Workroom is a joy to create within.


Tutor - Jayne Mulqueen