Sailing
The dramatic scenery of the Peak District National Park provides a stunning backdrop to sailing enthusiasts of all levels.
Dovestone Sailing Club (external site) has sole use of the 100 acre Dove Stone reservoir at Greenfield.
Welcoming both experienced and novice sailors, the club's fully qualified trainers will take you to club racing level and beyond, in a range of disciplines from dinghy sailing to power boating.
With a bar and galley to feed hungry sailors, barbeques, parties and other social events, the club house is a nerve centre for all club activities.
Affiliated to the Royal Yachting Association (RYA), the club uses a variety of boats including Pics, Lasers, Flying 15's, RS Feva, windsurfers, Topper, Optimist, Vortex, RS200, Mirror, Lightening and many other classes. Membership is also available for canoeing and kayaking.
Oldham Famous Faces

Find out about Helen Bradley MBE here.
Find out about Phillip Schofield here.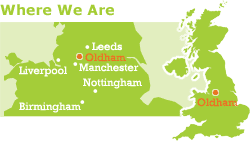 Event Highlights