Roller Derby
All-female full contact roller derby in the North West Of England.
The Rainy City Roller Girls are an established all-female full contact roller derby league. Founded in Greater Manchester in 2008, they have gone from strength to strength, bouting regularly against the top teams in the UK.
Roller Derby is integrated into the British Roller Sports Federation and is one of the fastest growing all-girl contact sports in the UK. It's fierce, feisty, fast paced and fun! They have girls of all ages, and from all walks of life on their team, the sport is wholly inclusive and wildly addictive.
For more information please visit Rainy City Roller Girls (external site)
Men of the North-West! This is a call to arms! The Knights of Oldham are an independent, skater-owned, skater-operated men's roller derby league, established with the help of the Rainy City Roller Girls. We are recruiting male skaters over the age of 18, of any ability. If you fancy giving roller derby a try. Don't worry if you have no prior skating experience, we can teach you from the ground up!
To find out more about the Knights, get in touch at info@knightsofoldham.com, and make sure you like our Facebook page for regular updates. To learn more about men's roller derby, check out the MRDA's website.
Oldham Famous Faces

Find out about Sir Winston Churchill here.
Find out about Annie Kenney here.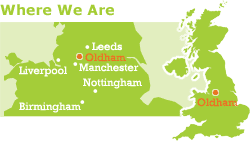 Event Highlights