Cycling
Experience the freedom of two wheels in Oldham's gorgeous countryside. From leisurely rides down secluded tracks to intense downhill descents, Oldham has the perfect cycle trail to satisfy anyone!
Take a look at our brand new 'Cycling in Saddleworth' guide (pdf document) for a selection of great days out on your bike from family fun to road touring and mountain bike escapes. Some of the most popular cycle trails in Oldham, each of them unique, all them enjoyable, include:
Greenfield to Mossley - Pennine Bridleway & Former Railway Line - Following a section of the Pennine Bridleway and the route of the 'Micklehurst Loop', a former railway line, this trail between Uppermill and Mossley provides a pleasant traffic free and reasonably flat route for cyclists. Passing through the villages of Uppermill, Greenfield, Friezland and Micklehurst, this route forms part of the Saddleworth Rail Trail. Length 3.4km (approx. 2 miles)
The 'Delph Donkey' - A one mile section of the former 'Delph Donkey' railway line has been restored as a bridleway providing a flat and pleasant traffic free route for cyclists. Running close to the Limekiln Cafe, the route extends 2km to the former Delph Station, passing through woodlands of oak, silver birch and willow. It gained its unusual name from the tales that the first trains along the route were pulled by horse. Maps showing the route can be found in a number of trail leaflets including the Saddleworth Cycle and Horse Riding Trail, the Saddleworth Rail Trail, and the Diggle Jiggle.
Diggle Jiggle Mountain Bike Route – An 11 mile mountain biking loop in two distinct halves. Running from Diggle to Greenfield rail station, the former 'Micklehurst Loop' railway line offers a pleasant section of off-road route suitable for families.
The Pennine Bridleway - The Pennine Bridleway is the first purpose-built long distance bridleway for horse riders, mountain bikers and walkers. At approximately 350 miles (560km), the Trail weaves through the Pennine hills from Derbyshire to Northumberland using a mix of ancient pack horse tracks, quiet rural roads and newly created bridleways. Suitable for all the family.
Saddleworth Cycle and Horse Riding Trail - Explore the Saddleworth villages of Dobcross and Diggle along this challenging 7mile trail, following parts of the 'Delph Donkey.'
RSF Saddleworth Circuit Off-Road Cycle Ride takes place every 2nd Tuesday of the month, the nationwide club for riders who enjoy a mix of on and off road cycling.
For more information on cycling in and around Oldham, including free adult cycling training please visit www.tfgm.com/cycling (external site).
Oldham Famous Faces
Find out about Annie Kenney here.
Find out about Phillip Schofield here.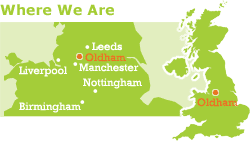 Event Highlights