Castleshaw Centre
The Castleshaw Centre (external site) is Oldham's Outdoor and Environmental Education Centre near Delph.
The Centre provides a range of outdoor activities for all age groups including canoeing, kayaking, rock climbing, hill walking, ghyll scrambling, raft building, sailing and mountain biking.
Primary Schools can attend geography, science and history based days, aimed at giving a practical experience of the outdoors.
Take a look at the New Heritage Trails or visit Oldham's historic Roman Forts, or are you brave enough to follow the Questers path and summon Densh the Dragon on the Castleshaw Quest.
Oldham Famous Faces

Find out about Karen Elson here.
Find out about Carl Cox here.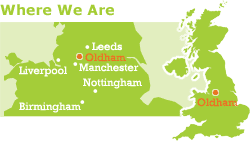 Event Highlights